Description
Fortified with Prolong's advanced lubrication technology, nothing works better than Prolong Oil Stabilizer to help solve lubrication-related problems.
Other oil stabilizers on the market do not include the necessary additives provided by today's motor oils, such as antioxidants. When these oil stabilizer products are added instead of motor oil, the engine is robbed of 20-25% of these vital additives. The formulation of Prolong Oil Stabilizer includes Prolong's AFMT™ (Anti-Friction Metal Treatment) advanced technology as well as vital additives to provide a completely formulated oil stabilizer product, which sets this product apart from the other competitors. Just compare the difference…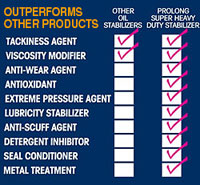 Use with confidence:
• Non-corrosive antioxidant formula.
• Will not void engine warranties.
• Effective for both gas or diesel engines.
• Compatible with petroleum or synthetic oils.
• Helps prevent sludge and varnish deposits.
Stops Oil Leaks – conditions seals to help stop oil leaks
Reduces Oil Burning – seals worn cylinders and valve guides to slow oil consumption
Eliminates Engine Noise – adds lubricity to motor oil to help quiet engine knocking
Reduces Exhaust Smoke – slows blow-by to help reduce smoke and emissions
Increases Compression – seals around piston rings to help restore compression
Reduces Friction and Heat – extreme pressure technology to reduce friction so that engines run cooler
Extends Oil Life – Antioxidants help slow oil breakdown to keep oil cleaner, longer
Stabilizes Viscosity – helps maintain oil viscosity in hot or cold weather
Cold Start Protection – special additives and Prolong's AFMT helps provide engine protection